It's Official: Ricky Williams Announces He Will Be Fighting for the Dr. John E. Upledger Foundation on "The New Celebrity Apprentice!"
Premiering January 2 at 8pm EST on NBC.
Ricky Williams, former Miami Dolphins running back, and contestant on this season of NBC's 'The New Celebrity Apprentice' will be competing to raise funds and awareness for Dr. John E. Upledger Foundation's CranioSacral Therapy and its benefits to those suffering from concussion, CTE and other related injuries.
Ricky Williams, who played professional football for 12 seasons, and like all players, suffered repeated trauma to his head and body during his career, strongly supports CranioSacral Therapy.
Since 2014, Ricky has partnered with the Dr. John E. Upledger Foundation on concussion programs designed for football players with a predisposition to Chronic Traumatic Encephalopathy (CTE) and post concussion syndrome.
The Foundation has helped thousands of patients overwhelmed with rising out-of-pocket medical expenses gain access to CranioSacral Therapy and other integrative modalities that treat malfunctions involving the brain and spinal cord, chronic pain and other conditions that cause physical and emotional impairments.
Channel 5: Ricky Williams Celebrity Apprentice Viewing Party
ESPN: Ricky Williams joins JC and the HT
---
Utilizing CranioSacral Therapy Aimed At Treating Concussions
PALM BEACH GARDENS, Fla., Sept. 25, 2015 -- The Dr. John E. Upledger Foundation in conjunction with the Ricky Williams Foundation and the Upledger Institute Clinic held their second concussion therapy research program aimed at treating current and former members of the NFL and the Canadian Football League.
Designed for football players with a predisposition to Chronic Traumatic Encephalopathy (CTE), the five-day intensive clinical program utilizes CranioSacral Therapy, Visceral Manipulation, Neural Manipulation and other healing modalities aimed at helping the body heal itself.
---
PT Classroom - Hope for the Treatment of Retired Athletes by Melinda Roland, MA, PT, LAc, OMD, Dipl-Ac, CST-D & Sally Fryer Dietz, PT, CST-D
Hope for the Treatment of Retired Athletes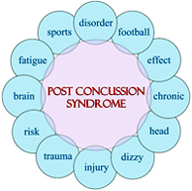 Attention to concussions has increased dramatically over the past 10 years, in part due to the media coverage of high profile athletes and the effect of multiple concussions and Post-Concussive Syndrome on long term health. According to the Centers for Disease Control and Prevention, the rate of reported concussions has increased 50% over the past 10 years, although actual numbers appear to vary between studies (1). Head injuries alone are estimated to occur once every 15 seconds and are considered to be the leading cause of death worldwide.
A concussion is defined as an injury to the head that results in a temporary loss of brain function. The consequences of a concussion include both short and long term effects affecting the cognitive, physical, and emotional health of an individual. Symptoms can include a change in mental status along with the presence of headaches, nausea, vomiting, dizziness, balance problems, fatigue, drowsiness, blurred vision, poor memory and mental fogginess (2). These symptoms can continue to affect individuals long after reported injuries, especially when there have been multiple insults to the body, such as in the game of football. In addition to the negative affects of concussion to the individual, there is also significant collateral damage surrounding that individual when the increased rate of divorce, depression, aggressiveness, inability to work & social stress that often follows is taken into consideration. With these factors in mind, the Upledger Institute, in conjunction with the Ricky Williams Foundation, combined resources with the goal of demonstrating the effect an intensive Upledger based, manual therapy program, might have on retired elite athletes with concussive history.
Continue reading Download full article
---
Concussion and Military Veteran PTSD Intensive Therapy Programs and Research Studies
Due to the overwhelming success of our pilot Concussion Intensive Therapy program and Research Study with former NFL players, the Dr. John E. Upledger Foundation is dedicated to the ongoing development of future programs and the valuable research they yield.
On June 4th-June 10th, 2017, in Palm Beach Gardens, Florida at the Upledger Institute International (UII) headquarters, 6 former NFL players will participate in a third concussion Intensive Program. Several of the former NFL players are now warriors in the awareness campaign about the debilitating long term effects of Traumatic Brain Injuries (TBIS) and multiple concussions. We will continue to partner with them to spread the word about how manual therapies including CST, NM, and VM are critical missing pieces in existing concussion treatment protocol for people of all ages.
On November 12th-18th, 2016, we launched our Military Veterans PTSD Therapy Program and had tremendous success. Our next Post Traumatic Stress Therapy program is scheduled for November 7-13, 2017 at UII in Palm Beach Gardens, Florida.