Heal It Forward Program
The Dr. John E. Upledger Foundation is pleased to introduce its latest program to expand the benefit of CranioSacral Therapy. We are seeking therapists willing to participate in "treatments of kindness", treating qualified patients in need, who lack the resources to pay for services. The Foundation will issue treatment vouchers to qualified persons in need of CranioSacral Therapy to pay for treatment sessions. Those vouchers may be redeemed by the treating therapist for eligible classes with the Upledger Institute International. What a powerful way to double the benefit of giving.
If you are a certified CranioSacral therapist and would like to participate in the Heal it Forward Program, please fill out the application and return it to info@upledger.org or mail to The Dr. John E. Upledger Foundation, 11211 Prosperity Farms Rd., Ste D-223, Palm Beach Gardens, Florida 33410-3487
If you are a patient in need of CranioSacral Therapy, please fill out the assistance application and return to info@upledger.org or mail to The John E. Upledger Foundation, 11211 Prosperity Farms Rd., Ste D-223, Palm Beach Gardens, Florida 33410-3487. We are limited to accepting applicants with a referring therapist at this time.
Heal it Forward Program Therapist Application
Heal it Forward Client Application
Pilot Program - 2020
The Dr. John E. Upledger Foundation extends our gratitude to our HIF Pilot Program Therapist, Vivien Henderson. Vivien, a Licensed Massage Therapist, earned her Upledger CranioSacral Therapy Techniques Certification in 2018 and her Upledger CranioSacral Therapy Diplomate Certificate in 2020.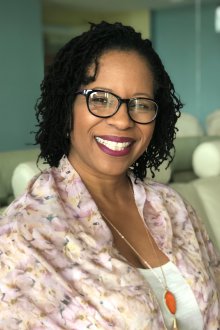 Pilot Program Therapy Recipient Patient Testimonials
Craniosacral Therapy (CST) wasn't a therapy I was used to having, however, [I] decided to give it a try due to throbbing dental pain and all over body aches/pains due to stress from studying. During my session I found lying on the table very relaxing; initially, I wasn't sure if anything was really happening (as the hands-on touch/technique[s] were so soft and gentle throughout the whole session), however, once my session ended, I could feel the tranquility throughout my body/mind. Although my dental pain did not disappear the throbbing sensation had subsided tremendously (needless to say I 'slept like a baby')!
I received 2 sessions of CranioSacral Therapy with Vivien through the Heal It Forward program. I enjoyed the sessions. They were very calming and relaxing. I left each session feeling peaceful.
I did not know what to expect when i stumbled upon the info for Craniosacral Therapy and decided to have my brother who was diagnosed with dementia try it, through the Upledger Institute-Heal it Forward Program.

Outside of the friendliness and total care shown by staff members, I was in total shock and disbelief, when my brother woke up the next morning after his session, came downstairs and said, "morning sis [this was normal, but then came] you know I dreamt last night, I haven't dreamt in years, i dreamt about my ex-wife" and bursted out laughing.

I could've cried.

I started to question him about the dream and wanted to push his mind more, l could hardly wait for his next session! I have also noticed since his sessions he clearly sleeps better throughout the night.

A big Thank you to his therapist Vivien Henderson and the entire team at the Upledger Institute.
Heal It Forward Program in Sri Lanka
The John E. Upledger Foundation proudly announces Sri Lanka's Samanelli Free Clinic as the first Heal It Forward Project. The Samanelli Free Clinic, was developed in 2014 by Barbara Dietrich, a German born Physical Therapist and CranioSacral Therapist who studied at the Education for Craniosacraltherapeutin. As the Senior Physiotherapist at Onmega Dolphin Therapy Center in Marmaris, Turkey, Barbara often vacationed in Sri Lanka. She realized that she never saw disabled children and upon further investigation, learned that there were few treatment centers and those that did exist were out of financial reach for many Sri Lankan families. Typically, these children were kept at home.
Barbara's love of her adopted second home, Sri Lanka, CranioSacral Therapy and children motivated her to fulfill a dream of a free clinic. Each year, with the help of friends and medical associates contributing to the project, Barbara has expanded the services for the disabled children she serves. Last year, she was joined by a Sri Lankan PT who also completed our first Upledger CST course in Sri Lanka (Thank You Thomas Rasmussen). Rangi Wasundara works at the clinic on her day off each week. Traditional dance and art classes have been added as well as an academic hour, all provided by qualified volunteers.
If you would like to support Barbara's good works through a donation designated for the Free Clinic, please Click here to Donate. Don't forget to indicate Samanelli Free Clinic in the memo field after the donation amount.
If you would like to volunteer in her clinic as part of a fabulous vacation or for an extended period please contact her directly at:
b.delphi14@web.de
077 5079470